MegaEpix Enormous
presents
(with help from our friends @)
MEMBRANE.COM
---
An Experimental Experiment Conducted by Experimentors

In a previous conversation, Digital Yoda (of Industrial Noize Pollution and Michael Stegner (The Jongleurs) spoke about collaborative project. The general concept would involve a website... and several experimental bands.

Below is the follow-up email. Digital Yoda's comments are marked with *.


*
* it was great gettin' to talk to ya on the phone the other day...
*
* did ya ever send me that email?


oh no... what did i forget. i was waiting on you to e-mail me the sites
listed below. sorry... i guess i spaced on that. i have talked to a
couple of the bands i think would fit in well with what we were talking
about. i've also mentioned it to a couple of individuals that could add
a lot of quality to the project. i will begin follow up calls soon to
see where everyone is on their end and what they are willing to
contribute.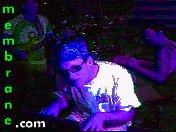 *
* anyhoo... the address for the "experimental concert site" i
* talked about is:
* http://membrane.com/live.html
* i mention it just because itz what i've been workin' on and seemed to
* be relevant to what we were talking about
*
* it is just a single-project website... for a better idea of where we've
* been... and what has worked in getting the music/multimedia out to
* human ears n' eyes, check out these addresses:
*
* http://membrane.com/music.html (this is the history and chronological index
* of The Philadelphia Spirit Experiment)
* and
* http://membrane.com/noize.html (this is one of the more popular front
* doors that "fans" come through... i guesstimate industrial noize pollution
* is seen and/or heard by 10,000/day... with a surprisin'-lee large n' loyal
* foreign fan base)
*
* now... if ya wanna have some real fun... you can check out our latest
* BIG project at http://ygraine.membrane.com/
*
* the beauty of ygraine is that she will let artists input data as text...
* and automagically generate a webpage... and index it. there are secret
* webaddresses for this part. ifn' ya have an interest in playin' with er,
* just lemme know... but for instance... we could create a place where you,
* me and any other experimentor could interact/co-labor-rate in real-time
* or at any time through any internet connection
*
*(in fact, that's how this page was made)

i will check all these sites out.

i will look over this stuff in the next few days. if i have forgotten
anything let me know. the bands i have been in contact with are called
the X-periment (Charlotte) - they also incorporate artists and poets into
a label of their own called liquilab, the japonize elephants
(bloomington, in), and hozemobile (cookesvile, tn). some of them are on
tour at the moment so their replies may be delayed.

i am excited about this whole thing.

thanks for the mail and time,
michael



---
---
© The Philadelphia Spirit Experiment Publishing Company
These graphics, images, text copy, sights or sounds may not be used without theexpressed written consent of the Glistening Web Communications Corporation.